Sales enablement has been given lots of definitions. Here are a few:
"The reduction of friction between buyer and seller." Mikita Mikado, PandaDoc Co-Founder & CEO
"A collection of tasks and tools that are intended to improve the execution of key sales activities—activities like making sales calls, pursuing opportunities, managing major accounts, and targeting top prospects." Salesforce
"In the end, sales enablement is first and foremost about attitude. It's a team approach to sales that gives everyone in the organization a support role in aligning resources to make the right sale to the right customer. Marketing plays a key role, ensuring that the right information, tools, and subject matter experts can be delivered in a way that is relevant to each unique selling situation." Act-On
"Sales enablement is a strategic, ongoing process that equips all client-facing employees with the ability to consistently and systematically have a valuable conversation with the right set of customer stakeholders at each stage of the customer's problem- solving life cycle to optimize the return of investment of the selling system." Forrester Research
All of this confusion can kind of make your head hurt. I mean, we have enough concepts floating around in this Information Age with inbound marketing, inbound selling, and smarketing, and now another one? It's enough to make you want to pull your hair out.
Here's the good news. I don't think it has to be that complicated. Across all varying definitions of the complex sounding phrase, it really boils down to having a productive sales team where everything lines up and sales goals are being met. A few key parts that can contribute to that are:
Having the right people in the right seats.
Training them.
Selling a product or service that people want and is profitable.
Thoroughly understanding your priority personas and how to find more of them.
Having amazing content to guide the prospect throughout their journey.
Using the right tools to make it a smooth experience all around.
Communicating effectively with your team on progress.
Being consistent. This isn't something you can set and forget, especially in today's world. To be successful, you have to keep at it and always be adapting.
Here are some related good reads I've read, come across, or been recommended related to this:
At DMD, we like to take advantage of
new tools but keep a personalized approach
. The approach you take with various tools and strategies really just depends on the leadership team's style, the type of business you all have and want, and your growth goals.
Are you looking for a personalized approach to better enable your sales team to hit their goals? Get in touch with a specialist today by submitting the form below or calling 214-937-9521.
Posted by Jackie Connors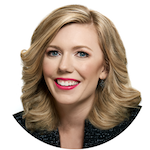 Jackie Connors is the Founder & CEO of Digital Marketing Direction, a top tiered HubSpot partner based in Texas. She provides inbound training, consulting, and managed content marketing services to mid market companies. Some favorites of hers include growth, Texas BBQ, and a good laugh!