Sales has changed, as we know, thanks to the internet. Here in Dallas, Texas I'd say the attitude towards that tends to be middle of the road, just like our spot in the country. Many people prefer to keep some things what's now deemed a little more "old fashioned" by many, but many are also starting to be open to newer ways of doing things, like marketing automation and creating email templates for sales representatives. At DMD, I'd say we're believers in a mix in the old and the new as well. We believe in finding new and better ways to do things, as long as they don't hurt the number one most important thing: relationships.
To go with our golf sales enablement theme, here are six features of HubSpot Sales and the CRM that we believe can keep your sales efforts human but also more effective in reaching your growth goals. Just like with golf, the you can make it through the course with old clubs and no strategy...but you're probably not going to win the game. Here are some tools to help your sales team win.
1) Email Templates
Have you ever written the same follow up email over and over again? Or the same prospecting email? Email templates are great because they allow you to have a pre-written template to insert directly into an email personalized with data from your CRM. You can also further tweak it before sending. Here's an example of a connect call request with the first name field pulled in from the CRM:
To: John Smith
Subject Line: Following up
Email copy:
Hi John,
Thanks for the call earlier.
Here's a one minute video
that gives an overview of how we help businesses like yours grow with inbound.
If it looks like something you're interested in hearing more about, you can either book a time on my calendar with the link in my signature, reply back to me with some times you're free in the next few days to connect, or give me a call back at the number below.
Have a great rest of your day!

--
Jackie Clews-Connors
Getting you business, online.
Hubspot Partner Certified
The message is populated in your Outlook or Gmail message by entering in the recipient email address, clicking templates in my Gmail HubSpot Sales tool bar, and then selecting the one I wanted. I could change anything in this email before hitting send, or even easily schedule it to send later.
Another bonus with using these is you can track the performance of each template over time in the HubSpot CRM. Just like with marketing emails, you're able to see open and click-through-rates to see which templates are resonating and which ones are falling flat, and make ongoing adjustments.

Pro tip: You can click on the orange plus button on any sent emails to easily create a template for future use from one you already sent!
2) Meetings Link
How many times have you gone back and forth with people trying to book a meeting? Think about all the time that wastes. With a meetings link that you can keep in your signature and integrate with your calendar, you can cut down on time spent scheduling and instead, have more time for meeting and accomplishing things. Here's an example of what one looks like: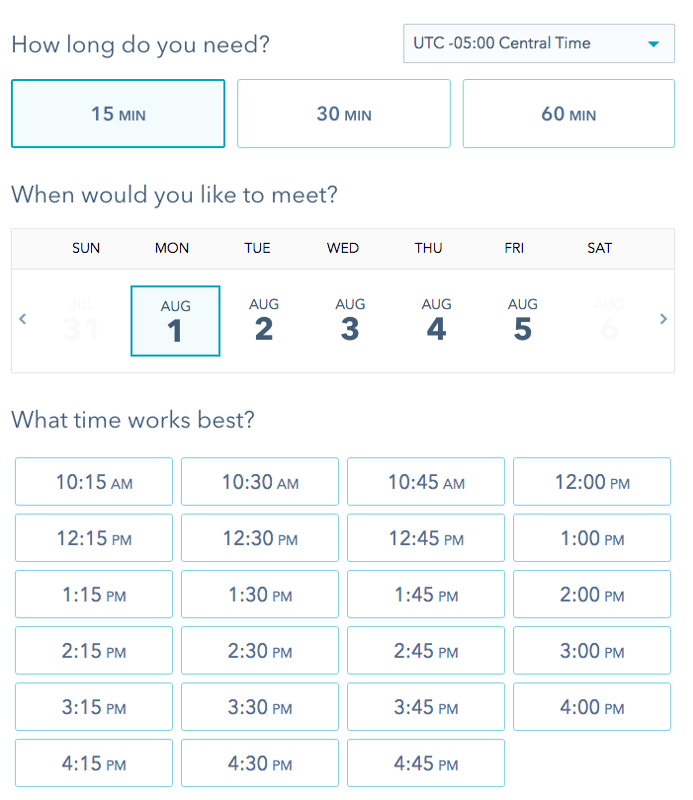 3) Document Storage
Have you ever spent 10 minutes searching for a document that would be great to send a prospect or customer and then just given up and sent the email without it? The right, helpful content at the right time can be a make or break for prospects deciding who to go with and who can help them. Don't let poor organization lose you customers. With HubSpot Sales, you can easily store and organize your documents in the CRM and then access them in your Gmail without ever leaving your email. They're trackable too, so you can see how long prospects or customers viewed the documents for to gauge level of interest.
4) Sequences
Sequences are a series of actions that you can enroll individual contacts in. They're similar to marketing workflows, where based on certain criteria or actions taken, someone can be enrolled into a lead nurturing workflow. But sequences are more personalized and customizable. Here's an example of a prospecting one:
Step 1: Call
Step 2: Email immediately after
Step 3: Connect on social media the next day
Step 4: Call the next day
Step 5: Email immediately after
Step 6: Send a breakup email
For prospecting, five touch points is said to be a good rule of thumb. But like with everything, every business is different. So just start with SOMETHING, and be sure to communicate with your team or have your reps report back to you on a regular basis with how it's going so you can adjust as necessary. Here are some good tips in terms of best times to reach out from that same aforementioned post:
Time: 3 pm and later local time (call), five minutes before and after the hour (email)
Day of week: Thursday and Friday
Date: 28th – 31st
I'll lay out a more detailed sample prospecting sequence in next week's blog. So stay tuned for that.
5) Tasks
How many times have you wrapped up a meeting with some follow up tasks for you like reaching back out in a few weeks...and then forgotten? Luckily, I can say (as far as I know) that's never happened to me thanks to the task feature in HubSpot's CRM.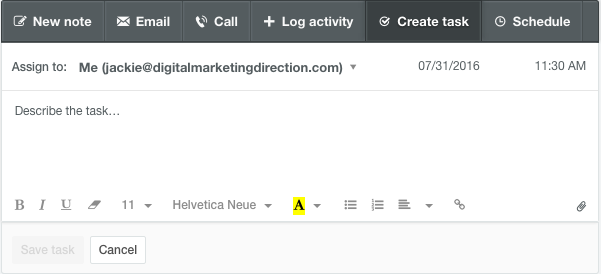 Within a contact, you can easily create a task, schedule the due date, and then an email reminder will be sent at that time to remind you. There's even a tasks section in the dashboard if you want to set aside an admin day or time and do them all at once to increase productivity. With all the things we all have going on every day, week, quarter, and year, this is a really great way to make sure nothing falls through the cracks and deals don't get lost due to untimely, or lack of, follow up.
6) Call Queue
Similar to tasks for productivity is the call queue. While you'll want to go into each contact to view recent activity, take notes, and create follow up tasks, this can be a great way to create a list of people you or another rep on your team should call for the week. You can then, just like with tasks, block out time on your calendar to get that done efficiently at once. While multitasking can be tempting, it's rarely as productive as the opposite.
Pro Tip: You can mention other team members in the notes, tasks, etc. to either quickly give them a heads up about something or assign something to them.
So there you have it; six HubSpot Sales and CRM features that should help you or your reps get more done while keeping that personalized, solution-oriented, relationship-building touch. Let us know if you have any questions in the comments. If your team could use some personalized help creating a strategy and getting set up, get in touch with a HubSpot partner and inbound specialist today!
Posted by Jackie Connors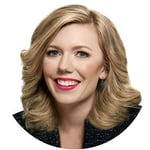 Jackie Connors is the Founder & CEO of Digital Marketing Direction, a top-tiered HubSpot Solutions Partner agency based in Texas. She provides inbound training, consulting, and content marketing services to mid-market companies.