It's already 2015! The past year was a whirlwind; packed-full of incredible happenings, fresh ideas, and a digital transformation of algorithms across the board.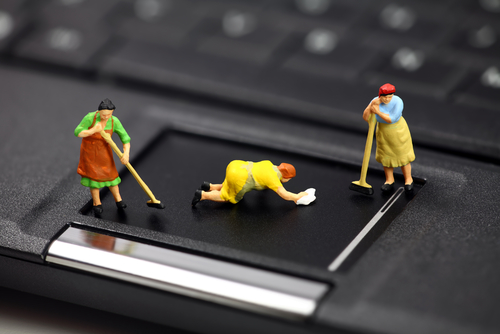 Users are getting smarter and companies are too. We've learned what we want to see, what we don't, and how annoying it is to receive unsolicited ads again and again. 2015 will empower consumers to be even more selective about which ads come into view. This freedom to choose is great on a personal level, but demands marketers to develop (even more) thoughtful digital strategies. Here are some tips to make sure you're reaching the people who want to hear from your brand by optimizing your email, social media and website.


Email
1. Don't be afraid to call it quits.
The first of the year is a great time to take a look at your email subscribers. While sending 40,000+ emails a week may sound like a great email marketing tactic, it isn't if you're landing in the spam folder. Actually, as your engagement rates decrease (and spam count goes up) deliverability suffers, meaning fewer emails will make it into the inboxes of those who want to see your content. Besides that, most (if not all) email services charge by the email, so sending 1,000 unsuccessful emails every time is like tossing money out of your office window.
Before the clean up, back up your entire contact list, just for safe measure.
Next, start shedding the dead weight by unsubscribing users who haven't ever opened your emails or who haven't opened any in the last four to six months.
2. Ask them if they still want to be friends.
For users who haven't opened many emails in the last six months, it may be a good idea to ask them to opt out or remain subscribed. Email services allow subscribers to update their preferences by clicking on a link, but it's easily done manually if you want to give people the additional option to email you their change in subscription status.
3. Strive to make that personal connection from the start.
Creating an email campaign for new subscribers can be a great way to get your relationship off on the right foot. Crafting two or three stellar emails sent over their first month (or so) as a subscriber can really drive home why your organization is worth listening to, and what value you can offer them down the road. This should help you maintain a quality list of prospective customers year round. According to chiefmarketer.com, subscribers who receive a welcome email show 33 percent more long-term brand engagement.

Social Media
1. Consolidate.
We know most of you have been scheduling your social media posts in bulk for years, but there are always a few who haven't committed to this efficient way of life online. Sign up for a service like HootSuite or Sprout Social so you can begin scheduling all of your posts at once. With these services you can craft messages days, weeks, or months in advance putting your digital marketing on autopilot.
Here's a list of HootSuite pro's and con's to help you choose the management tool that's best for you. You may even want to put your blog, social media, email, and website in one place with a service like Hubspot.
2. Review your year.
Great marketers check their analytics regularly, but the year's end can be a good time to hone in on analytics even more. Check your stats on Facebook, HootSuite, Sprout Social, Hubspot, or whatever platform you've been using. Try to find the post level data for your most and least successful posts, and really look for the "why" in each post's performance. Why did these posts succeed or fail? Were open-ended questions hot for you this year? Do you see a trend in interaction that you could turn into a series of blog or social posts?
3. Target your posts.
When posting directly from Facebook or on HootSuite Enterprise, publishers are able to choose specific audiences for each post. Let's say you're the director of marketing for a national chain of cupcake bakeries. You may want to offer a discount on peach cupcakes in Georgia and cheesecake cupcakes in New York. With Facebook's targeting tools you can show posts to people in a specific geographic location or get more detailed with gender, relationship status, education, and even interests, such as chocolate lovers.
Using relevant hashtags and appealing images are other ways to target your posts. Just writing with a specific tone can be considered targeting, so get creative, find the best tools for your business, and really try to think from your audience's perspective.


Websites
1. Choose a great CMS.
Choose a comprehensive, user-friendly content management system (CMS), if you haven't already. Our favorite CMS's include marketing components to consolidate your website and online marketing needs, from blogging to social. While hiring a developer is vital, make sure you have a platform that allows you to easily swap photos, post blogs, and perform routine website maintenance tasks without racking up a bill from your developer. Companies like Hubspot offer training and support for all of their clients, so you can make changes quickly and cost effectively.
2. Find your problems quickly (before your customers do).
Try a tool like Screaming Frog SEO Spider, which allows you to scan your site for broken links and missing images without spending hours testing each page. This program creates an excel document that can be used to track flaws and upload corrections to certain tools, but be forewarned, it's probably best for tech-savvy users. If you can't figure it out on your own, ask you developer or Webmaster if they have any similar tools.
3. Revise your blogs.
Revising old blogs can be a great way to spruce up your site. Republishing can help improve your search engine optimization (SEO), and particularly successful blogs can even be redistributed through email and social media, which will cut back on the number of fresh blogs you need to write.

If you have any questions on how to simplify and improve your marketing efforts in 2015 and beyond, or would like to learn about how we can help, shoot us an email or give us a call. We hope to hear from you soon!
Posted by Lacey Williams

Lacey is the Digital Marketing Manager at DMD. She is a Baylor graduate and previous marketer for the great City of Frisco and Ylang 23. She loves writing, awesome typography and traveling whenever possible!