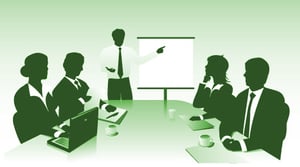 Smarketing meetings are regular meetings between sales and marketing departments, often held monthly. The meetings are a time for the two teams come together to review conversion rate and activity level goals, celebrate successes, and discuss next steps to improve.
You might remember our earlier blog that introduced the concept of smarketing and laid out some tips for building cooperation between the two teams.
Here are some more actionable tips for the meetings to help make them more successful:
Designate a facilitator to lead the meeting and keep it on track
Schedule it for a time when people will be more focused and relaxed
Keep it to an hour
Set an agenda
Make it into a narrative so there's context
Budget time for questions and conversation
Have the marketing system and CRM pulled up and ready to use
Customize it to fit your company's needs in terms of pace, style, frequency, and more
Avoid anything that will create any sense of animosity (a little bit of flexibility is key here)
This blog from Hubspot includes some great tips for holding productive meetings.
With that said, here are some different numbers that can be discussed to keep it focused on reaching higher numbers for the company as a team:
Visits
Leads
Marketing qualified leads (MQL's)
Sales qualified leads (SQLs)
Customers
Be sure to define exactly what each of those are as a collective team first so that it doesn't cause any lapse in communication. It's also interesting to note that information versus the month before and versus that same month a year ago to get some apples to apples data and context.
Activity levels for each team
For the marketing team, how many social media posts did they send out last month? How many blogs and downloads did they produce? The amount of activity (combined with quality) will directly affect the sales pipeline.
For the sales team, how many appointments did they have? How many emails did they send and calls did they make? How many times did they follow up with sales-qualified leads? This is a great way to provide accountability and locate if someone is confused about his or her responsibilities.
Conversion rates for each team
For marketing, we're looking at a few different conversion rates, such as how many visits converted into leads and what were our conversion rates on some recent downloads. Keep it high level and don't get so into the weeds that you're talking about every single recent email open rate…unless you want to put people to sleep!
For sales, we're talking about how many leads became customers, how many were marked closed/lost, and details related to those so everyone can learn from that feedback moving forward.
Be sure your team has set up their CRM and marketing systems to talk, set SMART goals, and created a service level agreement (SLA) before kicking off smarketing meetings if you want to keep them productive.
Stay tuned for our upcoming blog about how to create downloads sales will actually sell with!

Posted by Jackie Connors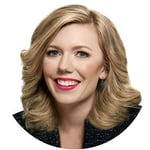 Jackie Connors is the Founder & CEO of Digital Marketing Direction, a top-tiered HubSpot Solutions Partner agency based in Texas. She provides inbound training, consulting, and content marketing services to mid-market companies.