Search. This is something that has not only seemed like a vague, mysterious world for anyone outside of marketing but also to many marketers for many years. I know many who have, dare I say, pretty much abandoned search engine optimization (SEO) strategies because they don't really trust what anyone is saying out there about what really works. They believe they're just going to end up going into a rabbit hole and never getting that time back in their life.
I don't blame either of them. For years, many marketers out there used shady keyword stuffing techniques and then even worse, overcharged clients and told them not to ask too many questions about what they were doing because well, it was just so complex that they couldn't possible understand...and results, well they take time, but let's not worry about that..but oh, have you paid my invoice yet? K, thanks.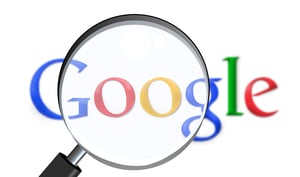 Then Google finally updated all of their algorithms to at least penalize websites for doing sketchy, unnatural things that tried to game the system and instead said hey, everyone needs to create quality, useful content that solves people's problems. So just...act natural and you'll be rewarded! So many marketers were like, "fabulous, finally." Let's at least focus on creating GOOD content and then when all the technical stuff becomes a little less confusing and stops changing a hundred times a year, we'll maybe revisit that and attempt to "optimize" our websites again.
Well that time has come, so marketers and business owners rejoice! One of the reasons I love partnering with Hubspot is because their software is built around helping businesses increase their rankings in search results for relevant search terms in a legit. way. that makes sense. and is...*transparent.* I've worked with the Hubspot team to nail down a repeatable, effective process for optimizing your website that is simple, efficient, and easy to track results so you can keep your sanity. Here it is!
1) Research opportunities
What are your prospects searching for, relevant to your business? Let's use people searching for dermatologists in Dallas as our example here.
First step, open up keywordtool.io. Enter in "Dallas Dermatologist." Here are a few keyword phrases that pop up:
dallas dermatologist open saturday
dallas dermatologist reviews
dallas dermatologist acne
dallas dermatologist botox
d magazine best dermatologist dallas tx
dallas female dermatologist
dermatologist dallas tx 75206
Gather a few ideas from there and enter them into Hubspot's keyword tool.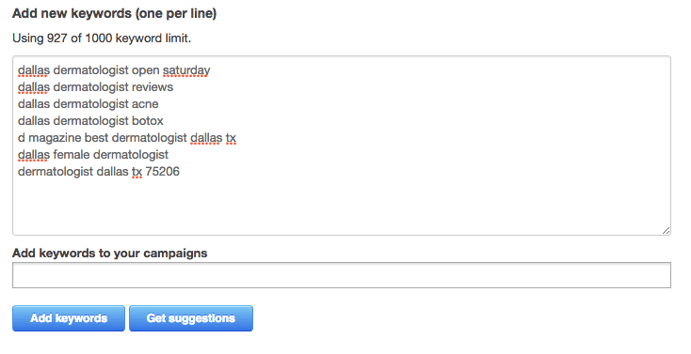 Next, add the phrase "Dallas Dermatologist" into Hubspot's keyword suggestion tool and add terms some terms that show up that are good fits for your business.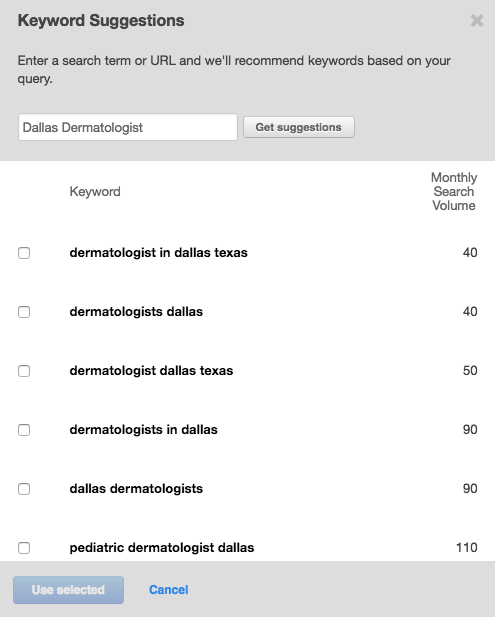 Lastly, type it into Google and take a look at some of the related search terms that come up at the bottom that show similar phrases people search for.

Grab a few of those and enter them into the keyword tool, as well. Repeat the first three steps for any other phrases you want to find related search terms for.
2) Refer to Hubspot's Page Performance Tool
Once your keywords are entered in, you'll want to make sure you're using those phrases on your website pages where *relevant* so the search engines know your website is...*relevant* to people searching for those things.
Go into Hubspot's page performance tool and do a quick audit of what you're looking at and how severe the damage is. Are most pages missing meta descriptions all together? Are any target keywords on your pages at all? Do most images have relevant alt text? You'll want to mentally prepare yourself for what you're about to dive into. Luckily, Hubspot's page performance tool is pretty straightforward and basically acts as a check list. It's just a matter of how long your check list is to determine how much work you have ahead of you.
Then you'll want to go page by page and write out all recommended adjustments in a Word doc, while keeping basic SEO best practices in mind. Be sure to use keywords and phrases that are natural, but also optimized for search. You can do this by keeping monthly search volume, difficulty score, and where your website currently ranks for each term in mind. This information is available in Hubspot's keyword tool for the keywords you just added. For example, if you realize that significantly more searches are happening for the phrase "pediatric dermatologist dallas" than "kids dermatologist dallas" then the one with more monthly search volume is the way you will want to phrase it on that page of your site, because that's how most of your prospective patients are searching for the service you offer. Make sense? I recommend actually writing out those three stats for each term you decide to cover on each page so you make sure you're not using the same terms over and over again. It also forces you to stay diligent in choosing the best keyword phrases by writing the stats out.
3) Make adjustments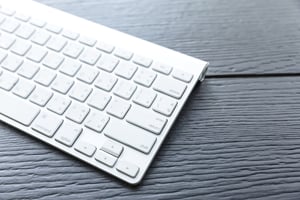 Once you've reviewed the recommended changes with your team to make sure all the adjustments not only optimize for monthly search volume, difficulty scores, and current rankings, but that the changes are also in line with other business objectives like branding, it's time to get in there and actually make those changes. This part is pretty straightforward, just a little time consuming.
4) Track progress and take note of changes for identifying more opportunities
Lastly, you will definitely want to track and discuss progress during your monthly smarketing meetings to give each other high fives when you see your company's website rankings jump 10 or 100 spots up, but also to make note of new opportunities based on similar types of keyword phrases that are making big jumps in rankings and correlating increases in visits, leads, and customers from search. For example, if the dermatology practice didn't mention Botox on their site at all before and after putting it in a few places, they've had more calls coming in from the website asking about Botox...well, there you go! That also might tell you there's high demand in your area for that service with your business and therefore might make sense to do a whole campaign around it, including keyword optimized blogs.
Unfortunately, Google doesn't let you see which specific search terms are bringing people to your site anymore. But through the example I just mentioned you can find other ways to track successes and draw educated guesses, especially if your marketing and sales (whatever form that might be in- office administrators, etc.) teams are communicating on a regular basis. It's also helpful to have closed loop reporting set up so you can track changes in the number of visits, leads, and customers from search after optimizing your website and running specific campaigns. CallRail is really helpful for tracking and recording inbound calls and integrates with Hubspot, Salesforce, and many other systems.
That's my four step process for optimizing your site. I hope it's helpful and removes some of the mystery. Overall, just try and tell the search engines what the heck your company does and phrase the words on your website in ways that your prospects actually talk about them. You might be surprised at how easy it is to forget to put the most basic phrases on your site that actually describe what your company does in a way that people search for it. It's really just a matter of looking at your website with that lens and making sure you're being articulate to the search engines and therefore...people. So don't overthink it! Just make sure it gets done so you're not missing out on opportunities from people looking for your type of product or service to solve their problem.
Still feeling overwhelmed by the thought of optimizing your site or just don't have the time? Drop us a line to get in touch today and start getting more business from search engines.
Posted by Jackie Connors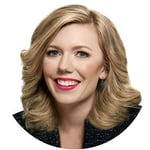 Jackie Connors is the Founder & CEO of Digital Marketing Direction, a top-tiered HubSpot Solutions Partner agency based in Texas. She provides inbound training, consulting, and content marketing services to mid-market companies.