This has been an exciting year in digital marketing. As technology continues to improve and more businesses invest in digital, the competition for attention online is increasing, but the consumer experiences continue to get better and better because of it. It is proof that competition in the marketplace can be a great thing and make us all better at what we do. Here are some digital marketing trends your company should be thinking about for 2017 to stay in the game and come out ahead:
Video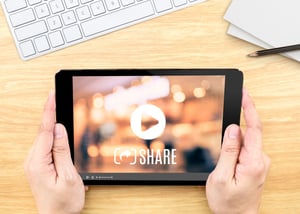 As a journalism major with a focus on video, I'm really excited about this one. Video can be such a powerful way to communicate and there are so many different kinds to choose from: live, animated, storyboard, testimonials, webinars, product, demos, slideshows, and packages, to name a few. And social media sites like Facebook are favoring it over any other type of medium. A pro tip here is to make sure your video has text over it so as prospects and customers are scrolling through their newsfeed, they can catch a glimpse of your video without having to obnoxiously turn on the sound at work, commuting, or wherever they are.
SEO
Last week I caught some of the Digital Summit Dallas at the Irving Convention Center and a huge chunk of the sessions were of course, about search engine optimization (SEO), as prospects continue to turn to search to evaluate every kind of purchase decision. Not only do more people continue to turn to search engines like Google for "organic" results as they continue to block out ads, but the way search works continues to evolve. Companies need to stay on top of these changes or risk falling further and further behind in their rankings. One big relevant change highlighted at the summit was voice search and how that's going to affect SEO. As more people use voice search not only on their phones, but also with devices like the Amazon Echo and Google Home, that needs to be kept in mind. The main difference in the way people search when typing versus voice is voice is usually more conversational.
Sales Enablement
Sales enablement has a lot of definitions but it's essentially marketing working with the sales team to be as effective as possible at working towards the same goals together with content, analytics, and tools.
Traditionally with inbound, marketing creates a ton of content to generate leads and the sales department has no clue what exists or how they could be using it to help close more sales faster by being a resource to their prospects. With sales enablement, the marketing team shows the sales team the resources available to them, makes it easy for them to access them, and gets their input on future content.
But what good is the new content if everyone can't see if it's helping to grow the business? That's where systems and analytics apply to this way of thinking. Closing the loop is important in regards to generating useful revenue-driven analytics. It's important that companies' customer relationship management (CRM) systems integrate with their marketing software so reports are easy to understand and accurate. HubSpot's marketing automation platform natively integrates with the HubSpot CRM but it also integrates with many other CRMs like Salesforce. Note: If the other CRM isn't very customized, it can be an extremely simple setup. Otherwise, there are companies like Bedrock Data that specialize in integrations and can take the pain out of the process to get all of your systems connected and speaking the same language.
Lastly, the tools need to be easy for the sales team to use and access or they just won't use them and then it's all for nothing. Just like it's more difficult to be succinct than long winded for most people, it's harder to create a sophisticated but simple software than a clunky and complicated one. HubSpot's CRM and sales tools were built for the sales rep so they actually use them.
Pro tip: HubSpot just announced new customers get the reporting add-on for FREE for a year. That's a $200 per month value and can tell your team things like pipeline numbers for forecasting, tying in both marketing and sales metrics.
Personalization
I remember sitting in Intro to Mass Communication early in college and someone from The New York Times came to talk about personalized news content and the pros and cons associated with it. It seemed like a drastic thought at the time to some people but now many of us have come to expect it and are irritated with brands when it doesn't happen.
Think about if every time you logged onto Netflix, the show you've been watching didn't popup on the main screen but you had to go search for it every time. Or it didn't list similar shows recommended to you because you're watching that one right below it. I bet fewer people would be addicted to Netflix and "binge-watch" their favorite shows.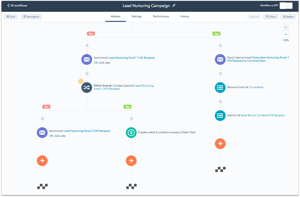 Your marketing can become just as addicting. HubSpot's smart content, smart calls-to-action, and workflows are great ways to make your marketing more personalized. They just announced improved workflow visualization too to make it even easier to build more sophisticated, personalized workflows. As people are talking about not just real-time marketing, but right-time marketing now, your company should be doing smart content and workflows with if/then branching at the very least. Check out some different homepage designs where companies have done a great job customizing visitors' first interactions with their website for some preliminary ideas to at least make your homepage smart based on whether they're a customer or which type of persona they are.
Social
Social media is here to stay. Finally, "serious" brands are realizing that it can be a serious source of business when done right, from large corporations to small businesses and across all industries. The Senior Director of Digital Engagement & Social Media at Georgetown University was even praising the engagement they see with Snapchat in engaging younger audiences at the summit. It's not cheap to live in D.C., let alone go to Georgetown. And it's not easy to get into such a competitive school. But even they seem to take social media very seriously for their business and have fun with it.
You probably shouldn't try every new channel that comes out, but take chances and try some different ones that seem like they could be a fit for your target personas and see if some of them work. It's all about being where your audience is, which can change overnight these days, and can make a huge difference for your bottom line. So don't be lazy or scared. Try new stuff and you could be blown away by the results. I've definitely seen it with some of our clients.
Focus on the User Experience
Number one on this list of marketing trends in 2017 is increased focus on the customer experience and I have to second that. We've all seen our search results get better over the years as Google has refined it's algorithm with the users' experience as their main priority. As a result, they've become the behemoth of search engines. Your business should do the same. That's why I only want to work with companies who have this mentality, who love creating great experiences for their customers and are customer-obsessed. They're the only ones who have a shot at winning. You can't pull the wool over people's eyes anymore as they have access to just as much information as you in a few clicks. Aside from simply researching your competitors, something I've found to be very useful in uncovering how and why customers choose (or didn't choose) to do business with companies are buyer persona interviews, using The Buyer Persona Institute methodology. Surveys and requesting reviews or feedback can be very helpful as well.
Artificial Intelligence
Artificial intelligence is the theory and development of computer systems able to perform tasks that normally require human intelligence, such as visual perception, speech recognition, decision-making, and translation between languages. Siri is an example. HubSpot just announced GrowthBot at its annual Inbound conference in Boston in November, which functions as a personal assistant for marketing and sales professionals. As messages, chat, and voice search all become more mainstream, AI technology will only grow. This is great news for sales enablement, reducing the friction for buyers when they have questions about a product, and allowing sales reps to spend more time selling than on admin work or trying to find pieces of information.
Bonus: Improved Reports
Something that is relevant in almost all of the seven points made is the importance of simplified, meaningful reports to show what's working and allow for nimble adjustments as needed. HubSpot's attribution reports can easily show things like the last six pieces of content leads looked at before closing over the past month and automatically go to the CEO, CMO, and sales director every month in a friendly, bar-graph display. If all you are seeing are open rates and website views - not what content is working or what each person is looking at on your website, it's time for change. It's 2016, almost 2017, and you should know exactly what's working and what's not in regards to your online marketing and website to grow your business.
If you need help planning remarkable content in 2017 and making it work harder for your company with better targeting and automation, get in touch with DMD today. As certified HubSpot partners and part of the select group of sales enablement advisory council members, we can help guide your company in the right direction with inbound strategies and content. Check out some of our work, case studies, or testimonials and call 214-937-9521 or go here to request a consultation today.
Posted by Jackie Connors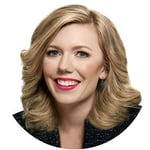 Jackie Connors is the Founder & CEO of Digital Marketing Direction, a top-tiered HubSpot Solutions Partner agency based in Texas. She provides inbound training, consulting, and content marketing services to mid-market companies.