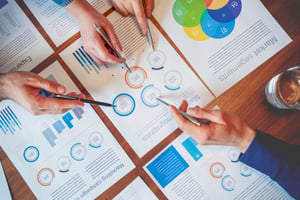 According to studies conducted by the Information Technology Services Marketing Association (ITSMA), 85 percent of marketers who track and measure ROI see higher returns with ABM than with any other kind of marketing approach. And companies reported to the Account-Based Marketing Leadership Alliance that they saw a 171 percent increase in their average contract value.
Clearly it can yield a very positive return. So why is this strategy proving effective and gaining in popularity recently?
The way organizations capture the attention of their leads today has changed drastically. The process looks a lot different than it did even just a few years ago. With increased connectivity, there are all kinds of evolving strategies that give marketers, sales teams, and executives the power to connect with customers in brand new ways on a whole new level. But with these changes also comes a change in buyer expectations. It's also more of a challenge to be heard among a crowded litany of competitors. To achieve their marketing, sales, and business goals amidst these changes, companies are turning to account-based marketing strategies to make it happen.
But what does the phrase really mean? Here's an in-depth look at what ABM is and why it's so beneficial to the organizations that are using it.
Account-Based Marketing
ABM is very specific. Precision is key. Lasers are to ABM what megaphones are to traditional tactics, and what magnets are to inbound.
WordPress defines it as:
A marketing strategy where key business accounts are marketed to directly as units of one (compared to the typical one-to-many approach). In essence, high-value accounts or prospects are identified, key stakeholders in these businesses are targeted, and then marketing strategies are implemented through various channels to appeal to their specific personas and needs.
Essentially, the strategy is about focusing on fewer but larger and better-suited accounts—the ones that can make the biggest impact on your bottom line. It means choosing quality over quantity, which can have a huge influence on the effectiveness of your marketing campaigns.
As ITSMA points out, ABM is useful for business to business (B2B) marketing. It's an approach that uses targeted insights combined with sales efforts to strengthen relationships and drive growth in new and existing accounts.
In B2B marketing, it might be easy to forget that there are people who work for the businesses you are trying to reach. ABM is not about pushy sales pitches. It's a client-centric approach to connecting with decision makers and influencers who work for specific companies.
And this approach doesn't only involve your marketing department. It's about working to form a strong partnership between marketing and sales divisions, providing opportunities for both teams to collaborate and work together to make meaningful, successful connections with relevant people at the agreed upon target companies. That's why it's so valued by sales teams, marketing departments, and executives alike. The work between these teams is focused on building a solid reputation, developing client relationships, and fostering long-term growth. Not short-term, one-time boosts to revenue.
Working with an ABM strategy means creating tailored campaigns that are personalized throughout and are all geared towards winning specific, carefully-selected accounts. And it's mutually beneficial for both parties: the buyer and the seller. This is because the approach is all about building successful partnerships with businesses, and in return they enjoy working with a company that's perfectly suited to meet their needs.
The Benefits of ABM
There are several advantages that make this strategy hard to ignore—for both organizations and their clients. Here are some of the biggest ones:
Easier to Track Return on Investment (ROI)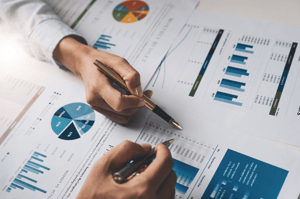 When incorporating ABM, the ROI can be much clearer and more discernible versus other methods. With fewer intended businesses as the audience, all marketing investment reporting is precise, targeted, and accurate, which allows you to track how each investment is doing.
In Hubspot's Target Accounts Dashboard, shown below, you can easily view related deal amounts and other relevant context, such as number of contacts at each company in your database and activity information.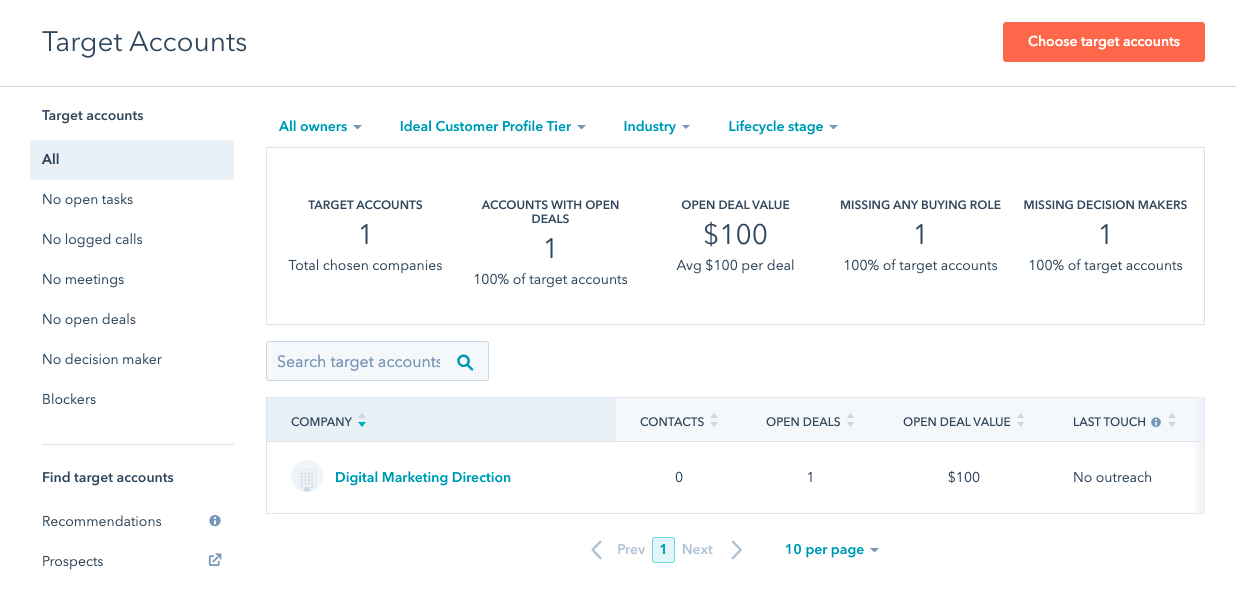 More Effective Use of Marketing Dollars
With ABM, no one is wasting money on generic, unspecified campaigns. With ABM and HubSpot, you can "focus your marketing spend and drive higher ROI of your digital advertising budget by targeting those accounts that display intent signals." That means you're only spending your advertising dollars on accounts with real potential fit and interest.
When you focus your marketing strategies on good-fit and interested prospects in this way, you can really maximize your marketing budget dollars.
Does this strategy replace inbound? No. It complements it.
Increased Customer Lifetime Value
These strategies are a smart way to better serve every target and current account. Ninety-one percent of consumers say they are more likely to shop brands that provide individualized offers and recommendations.
While this figure is regarding (B2C) shoppers, the same idea holds true for B2B buying processes as people's buying habits and expectations have evolved as a whole, especially during the pandemic. And especially in the manufacturing industry where products are starting to be sold directly online via ecommerce more and more, as part of an omnichannel strategy. Adapting to changing preferences and providing personalized communications can build brand loyalty and increase the lifetime value of each account.
An Alliance Between Sales and Marketing Teams is Key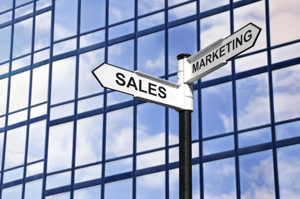 Marketo states that companies that align sales and marketing teams have 36 percent higher customer retention rates and 38 percent higher sales win rates. With a partnership between sales and marketing teams, leads are 67 percent more likely to become clients.
So how do you get your sales teams on board?
Help them understand the benefits that this approach can provide for them and the entire team.
Give them some input. Your sales team members are experts who know the customers well and can lead you through developing aspects of your marketing strategies.
Get them involved in choosing target accounts that they would like to focus on and ask them questions to understand why those.
The Sales Process
ABM adds another source of lead origination to your company's sales pipeline, along with other complimentary methods like inbound marketing. Inbound follows the traditional sales and marketing funnel the looks something like:
Awareness
Consideration
Purchase
The ABM sales process looks something more like:
Identify
Expand
Engage
Advocate
It's a more proactive approach than inbound marketing in the sense that sales reps are seeking out good fit prospects instead of waiting for them to come in from the website.
For example, an inbound sales process might look like this:
Land a prospective lead
Do research
Connect with them
Present a sales opportunity to them
Close the deal
Delight the new customers
An account-based marketing cycle might look like this:
Research and identify target accounts
Connect with and present to them
Close the deals
Delight the new accounts
When sales professionals incorporate this approach with their marketing team, the chances of converting and retaining accounts are much higher thanks to the alignment of the teams, leading to increased customer lifetime value. It means more completed sales cycles and more positive, personalized customer experiences. Incorporating this method with B2B sales teams is a strong way to deliver personalized attention to current clients and new prospects.
Reasons to Focus on Account-Based Marketing
So why should organizations consider making the switch to an account-based marketing strategy? There are many reasons this approach has been referred to as a "no-brainer." Here are some of the key reasons, to recap:
It's easier to set and analyze various goals, and make conclusions about campaign effectiveness.
It encourages collaboration between marketing and sales teams, which can help companies grow in more predictable, focused, and scaleable ways.
These strategies age well. According to LinkedIn,

84 percent of marketers

say that this approach makes for significant improvements in retaining and expanding existing business relationships.
It makes it easier for smaller companies to compete against large corporations by using resources more wisely.
The very nature of B2B organizations means each company has a select group of potential customers. Through account-based marketing, businesses have a better understanding of how effective marketing efforts are. Who wouldn't want that?
At Digital Marketing Direction, we can help guide you through the process of incorporating an ABM approach. We'll help you focus on creating lasting and strengthened relationships with your customers using these marketing techniques. As well as recommend strategies to help get your executive, sales, and marketing teams working together towards this common goal.
Perhaps it's time we talk. Contact us today by submitting an inquiry online.
Posted by Jackie Connors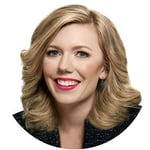 Jackie Connors is the Founder & CEO of Digital Marketing Direction, a top-tiered HubSpot Solutions Partner agency based in Texas. She provides inbound training, consulting, and content marketing services to mid-market companies.