HubSpot's Inbound conference is one of the industry's biggest annual events. Its main kickoff presentation sets the tone for the conference by looking back at recent trends and sharing advice about how to use those insights to thrive in the future.
The conference's first Spotlight speaker was Yamini Rangan, HubSpot's chief executive officer (CEO). After her presentation, Dharmesh Shah, HubSpot's co-founder and chief technology officer (CTO), and Stephanie Cuthbertson, HubSpot's chief product officer (CPO), offered their perspectives.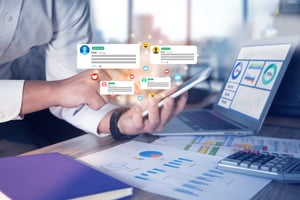 Here are some key highlights related to content marketing, with additional information to hopefully add more helpful depth and context to this specific topic.
Connect With Customers
In the wake of the COVID-19 pandemic, millions of people are feeling out of touch. They want to stay connected with others, but economic and social forces often make that difficult.
In fact, Gartner research found that when B2B buyers are considering a purchase' they spend only 17% of that time meeting with potential suppliers. When buyers are comparing multiple suppliers' the amount of time spent with any one sales rep may be only 5% or 6%.
This is representative of a trend Rangan calls the crisis of disconnection. In her presentation, Rangan shared that across hundreds of conversations with customers, they heard that people are "struggling with disconnected systems, disconnected people, and disconnected customers."
Content marketing is one strategy that can help your brand address this issue by helping to maintain a strong bond with your customers. As Rangan said, "We believe the businesses who will win in the future are the ones who focus on customer connection, not customer management. We're committed to helping our customers grow in this new world by providing strategies, technology, and communities that foster deeper connections. I'm excited about the product developments we announced today at Inbound because they empower our customers to do even more to solve this crisis with HubSpot's connected [customer relationship management] CRM platform."
She referred to this new era as the Age of the Connected Customer. And says HubSpot aims to improve their customers' connectedness through connected applications, a connected platform, and connected communities. And to therefore connect "data, strategies, and people."
Make it Great
The crisis of disconnection goes hand-in-hand with digital fatigue, according to Rangan. Even as we crave interconnectivity and interpersonal bonds, we grow weary of a constant feeling of being "on" digitally and emotionally.
Consumers use digital devices and platforms all day, every day. On one level, they're tired of it. Yet they also understand that connectivity is an essential part of life in the modern world. There's a significant trend toward digitally disconnecting for periods of time to recharge emotionally. For content marketing, this means we should respect our audience's time.
Therefore, it's more important than ever to emphasize quality over quantity with your content. Work to ensure that every blog, social media post, download, and advertisement is helping to add value for your target audience, connecting with them on a deeper level, and standing out from the competition as much as possible.
Mix it Up
If your content isn't diverse, it's lacking. Diversity is the key to effective omnichannel marketing. This means, for example, that you should keep publishing blog posts, but don't stop there. Publish ebooks and infographics. As Rangan asked the Inbound 2022 audience, "Are you on YouTube and TikTok yet?"
Always consider new channels and topics that will help you connect with your audience. Bring in fresh content from people with diverse backgrounds and perspectives that enhance the overall messaging in your content plan. Of course, your messages should always remain focused on your target audience to address your core goals. Remember to keep your company's buyer persona research front and center to prevent wasting your efforts on channels or messages that aren't productive.
Leverage Influencers
Rangan mentioned that digital influencers are revolutionizing the marketplace. Between 2019 and 2021, the global market value of influencer marketing doubled. It's now a slice of the market worth more than $13 billion.
Now's the time to see how partnering with an influencer could improve your inbound marketing content and expand your brand. Influencers can direct high-quality traffic straight to your company's website, boost your brand equity, increase trust with your target audience, and improve search engine rankings.
Analyze Journeys
The customer journey is evolving. Shah mentioned that HubSpot is beta testing a new customer journey analytics tool that helps marketers learn more about their specific customers. The analytics tool helps build "deeper, more durable connections with and between customers," according to HubSpot's What's New page. It looks similar to Google Analytics, where customers can see and understand the user flow. The campaigns tool in HubSpot was also enhanced, allowing marketers a more comprehensive view of related activities.
With better insights into visitors' paths to and through your website, you can combine that data with other information from your marketing team to better plan campaigns and map customer journeys.
Give Customers Control
Every company wants to know what its customers want. HubSpot conducts extensive research into buyer behavior, and Rangan sees three main areas where online audiences are showing distinct preferences:
Ownership
Flexible buying experiences
Deeper connections with companies and one another
For example, I booked tickets to an in-person event recently and it could have been a less frustrating experience if I felt like I had more control, purchasing options, and was able to better connect to the company. Instead, to speak with someone on the phone would have included at least a two hour wait, according to the automated message. I did eventually find a way to send them my questions through an online portal, but never heard back. It would have been a better customer experience if I had been able to connect with a person quickly by phone or chat who had my information pulled up. And could therefore see what content I had recently viewed, in order to better personalize and delight in the purchase and post-purchase stages of my buying journey. Those are some things that the HubSpot software can do.
HubSpot helps empower companies to provide these things for their customers by providing companies with a connected system that helps provide context and different ways to purchase to their customers, such as via ecommerce or quote. Related to that, HubSpot also announced several improvements to HubSpot Payments at the conference. These upgrades include recurring payments and a sync to Quickbooks, making it easier to not just close contracts and measure deal conversion rates. But to also collect revenue faster and measure related metrics by generating custom reports. This can help to not only create more happy customers, but to also close the loop in attribution reporting from content marketing and other efforts.
Create Content for Customer Questions
Rangan spoke about remaining connected with customers at every stage of their journey. This reiterates that content isn't just for the attraction stage.
Content should connect with customers at every part in their buying journey and keep them fully engaged. HubSpot has helpful tools that allow your brand to develop content that resonates with your target audience throughout the customer journey. This includes the gated content feature, which enables companies to password-protect customer service content, thereby addressing the delight stage in their journey post-purchase with exclusive content.
Add Context to Conversations
Does your content bring context to your customers' lives? Rangan mentioned the importance of context in a chaotic world. Marketers bring context to conversations by producing high-quality content with meaningful explanations of complex concepts.
As brands have ongoing omnichannel conversations with their customers, content creation should add a layer of much-needed, relevant, timely context. Shopify reports that omnichannel messaging increases engagement by as much as 18.96% compared to single-channel messages, which is typically at about 5%.
Make it Relevant
Rangan and Cuthbertson both raised the issue of relevance during their Inbound presentations. There is so much extraneous information in the digital world. To be seen and heard, it's important to be relevant. When it comes to providing content, it refers to the appropriate time, period, or circumstance.
So how do you do that? You can present useful information that directly addresses your customers' most pressing pain points. Think creatively and mix up your messaging channels. For example, social media posts, videos, aerial drone footage, high-quality product shots, and other formats that fit the message and suit your audience. HubSpot's reporting tools can be helpful for easily reviewing which content has converted leads and customers, and at what rates. Your sales data from a CRM like HubSpot's and an integrated enterprise resource planning (ERP) system can provide more context to help give a fuller picture of what is resonating. This can help contribute to better informed decisions about content topics, promotional channels, and more. The software also enables more personalized content and targeted online ads on channels such as LinkedIn, Facebook, and Google that adhere to the latest privacy standards. This can improve the relevancy of the content for the consumer, as well. And ties back to the customer trend of wanting deeper connections. By presenting targeted, personalized content that is more likely to resonate than less targeted and contextually relevant outbound messages.
Success is found in not just creating relevant content. But in also accurately targeting it with thoughtfully-selected channels, audience criteria, and timing. That's why content marketing is part art and part science. HubSpot helps you streamline your marketing to be more effective by allowing you to easily see what content is actually working to help your company achieve its revenue goals, and what is not.
Is it Time for a Content Marketing Consultation?
Does it sound like now could be a good time to revisit your company's growth goals and content marketing plans? We can develop the strategy, create the content, and promote it in collaboration with your team as the in-house company experts. We can also review with you the products from HubSpot's Growth Stack that could help you maximize your content marketing efforts. To get in touch with our team, please request a consultation.
Posted by Jackie Connors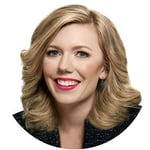 Jackie Connors is the Founder & CEO of Digital Marketing Direction, a top-tiered HubSpot Solutions Partner agency based in Texas. She provides inbound training, consulting, and content marketing services to mid-market companies.