Intriguing offers that are relevant to your personas' interests and pain points are a crucial second step in the inbound methodology: convert. On average, Hubspot customers following best practices convert 2% of website visitors into leads and 6% of those leads into customers. So for every 1,000 visits, you should be converting one new customer. Again, that's an average, so it can vary by industry and company, but overall I'd say it holds true. That being said, if your offers aren't performing well and your website is converting less than the average 2% of website visitors, you're probably not getting very many leads per month, even if your traffic is pretty solid. By adding a few more enticing offers to your website, you can solve that problem. Here are some ideas:
About the Company Video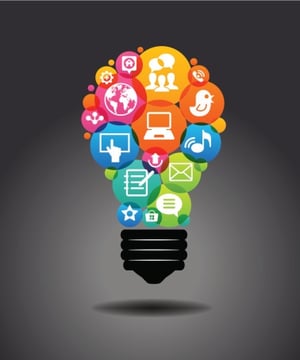 This is great for the evaluation stage of the buyer's journey when prospects are figuring out who they want to work with to solve their problem. Here's an example from Apple that focuses on the impact of their work over the last 30+ years. You could also make one that shows a behind the scenes look into your business, just remember to keep the customer and the problem you're solving for them in mind.
Animated Videos
This can be a great way to explain the nitty gritty of the problems your company solves. It can help shine the light on the details that your main persona might be interested in, yet present the information in a light, quick-paced format. Here are some video ideas. The Dallas-based video company DHD Films has some great examples of explainer videos on their site. They can also package your videos in innovative offline ways such as embedded in video brochures to help your company stand out even more.
Apps
We've all heard the phrase, there's an app for that. But believe it or not, there's not an app for everything. Apps can be pretty pricey so be sure to do your research ahead of time and make sure it's worth the investment. If it is, the return can be huge. One usage rising in popularity is events having their own apps, which can be great for capturing user data for future marketing efforts.
Gated Case Studies
Most companies have case studies listed on their website, but have you ever thought about asking visitors to fill out a simple form to view them? Word on the street is that some companies are seeing big success with this newly emerging trend and it makes sense. You have to be a pretty qualified lead to want to look at a company's case studies.
Checklists
As long as you have a relevant and compelling goal, a checklist is usually simple to create and helpful to people needing it.
Consultations
Consultations are a great way to figure out if you can help your prospect and if you're a good fit. You can offer paid or complimentary consultations and offer them on various sections on your website.
Comics
This is a new one I haven't really seen out there yet online. You can check out an example of one and some other unique general content ideas here. They have a brief interaction in that example but a longer form version like a comic eBook might be a fun and different type of premium offer.
Cookbooks
I wrote about this my previous blog. Cookbooks, just like comic books, are great because you cannot only offer them online but easily print them out and use them offline too.
Discounts
Limited time offer discounts, when used in moderation, can be great for lowering the risk for prospects who might be on the fence about using your product or service. The more targeted and exclusive, the better.
Data Sheets
Have you ever thought something wasn't that complicated and then started to write out everything that goes into it and realized the opposite was true? Data sheets are helpful to prospects for that reasons. Be their resource and trusted advisor. Show them the way.
Demo Videos
Did you do a demo recently? Great! Record it and put it behind a landing page so visitors can watch it on their time and let you know if they're interested in more information later. Don't forget the correct point of contact's information needs to be easy to find. If you can have a calendar booking link readily available, even better.
eBooks
I don't care what people say. Long form content is not dead. It's just about making sure the format and depth match the topic. Not every topic is worth a full eBook to flesh out, but some are. For example, would you download an eBook to decide if you want to test out graze.com for some healthier, automated snacking options? Probably not, but the risk is low. You can try it and if you hate it, cancel it. However, you might download an eBook like this one from a payment processing company that can enable your website to accept payments called "A Business Owner's Guide to Developing a Business Website."
When people ask me if inbound can help their business grow, I usually ask them if there's anything relevant about their company that they could put into an eBook. Inbound is great for companies with higher risk where prospects are doing a fair amount of research and consideration before making a decision. If you ask yourself that question and say no, no one would download an eBook about anything relevant to our industry, than it's probably not a good fit.
Educational Webinars
Along the lines of the previous example, webinars can be a great way to flesh out some in-depth topics with multiple layers. Especially when there are lots of surrounding questions you can answer for multiple people at a time. Just be sure to stay specific in your goal of the webinar so everything else is focused and centered around that topic.
Estimates
Instead of just having a Contact Us form, you can have a form that asks people to fill out the form to get an estimate. It makes it a little more direct in terms of what you can help with and can therefore help increase conversions.
Free Trials
Do you have a software service? Or another type of subscription service? Offering a free trial for people to test the waters can be great for helping people to take that first step.
Frequently Asked Questions (FAQ)
Your sales and customer service teams most likely get asked similar questions over and over again. Ask key people in those teams to list a few of those questions with answers and compile them in a targeted offer or a general page on your website.
How-To Videos
Everyone reading this has probably Googled how to do something at some point in their lives, maybe even today or yesterday. It doesn't need to be fancy but if it helps a prospect or an existing customer learn how to do something that they need to know about, they will be appreciative. Be sure to have a clear call to action at the end so you articulate how you can help or how they can stay in touch for more similar information.
Infographics
Dense information is always more enjoyable to consume when formatted nicely. This format works well for dense information you might also find in animated videos, timelines, or lists.
Kits
This is a great kit example and I love the look of the landing page layout.
Live Demos
This can be a valuable offer as a webinar for both a group or on an individual basis.
Live Events
Many people love being able to attend events that are relevant to them and their interests. Again, focus on making sure your attendees will gain something valuable and tell them clearly what that will be in all the promotional materials. We're all very busy and need the value proposition to be front and center if we're going to take the time and effort involved in going to something.
Popup Forms
These have much lower conversion rates than offers because you're really not giving anything to get a visitor's contact information, but they are better than nothing and can always supplement your efforts. Exit popup forms are growing in popularity too as there is a little less of an intrusive experience but in my experience the conversion rates are generally lower.
Product or Service Comparison Guides
Just like the data sheet, do the homework for your prospects and not only will you get in touch with more of them, but they will likely view your company as the authority on the topic, which is a win.
Product Webinars
Sometimes there's nothing like seeing something in action to really understand if it's a fit for what you're going for. Product sheets are great. Product webinars can help go the extra mile and seal the deal to remove lingering doubts.
Quizzes
While Buzzfeed has a lot of ridiculous quizzes, there might be one you can create that's fun and helpful to your prospects.
Samples
Do you have a lot of people asking you how something works? Maybe a service offering you can provide? Create a sample to lay it out there for them. Here's an example of one of ours sample offers.
Slideshare Presentations
Not only do these help your PDF presentations look great on webinars and attract more leads by hosting it on the Slideshare platform, but they also look really nice embedded on thank you pages as stand-alone offers or after webinars are complete and you want to continue to generate leads from it by posting the slides. Here's an example from a webinar where we recently did the marketing, including the slide deck.
Slideshows
I originally stumbled upon Animoto for creating slideshows for a few family events, but it works great for businesses too. You can use whatever software or tool you want. The key is focusing on your goal and then having the photos and music match that so it's not all over the place.
Tip Sheets
What tips would someone appreciate during each stage of the buyer's journey for your product or service? Jot them all down and turn it into a download to generate leads.
Templates
Hubspot offers a call to action template that I've used a million times. Think of something strategic and relevant like that.
Testimonial Videos
What are clients saying about working with your company that might resonate with others out there? Video testimonials are great for not only capturing the bullet points that matter but also the emotion and the demographics of your buyers so prospects can figure out if they're a good fit for your company.
Video Interviews
Different from testimonials, these can be an educational series where your company interviews different thought leaders on topics relevant to your prospects and then sends it to them.
Whitepapers
Last but not least, whitepapers. These are generally sort of like a shorter eBook. It's not quite complex enough to have chapters but garners a little more fleshing out than a basic blog post.
Whew! That's a lot of content. I hope these ideas got your wheels turning about new ways to provide value to your prospects and capture more of their contact information for the sales team in return.
Bonus:
Once you have all of this amazing content, you can organize it all in a searchable, beautiful library with Uberflip so visitors can easily find and share your different offers with their bosses and coworkers.
Again, just like I wrote about in my previous post, if you can repurpose your online content as offline content and figure out the best way to distribute it like the Cabernet Grill did by putting their cookbook in local wineries, that will help you attract even more new leads who may not otherwise find the content online.
The DMD team loves planning and creating beautiful, purposeful content for your specialized and innovative business. If there's ever any way we can help guide you in the right direction or take some of the content creation work off your plate, don't hesitate to reach out!
Posted by Jackie Connors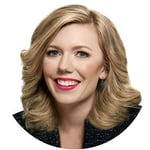 Jackie Connors is the Founder & CEO of Digital Marketing Direction, a top-tiered HubSpot Solutions Partner agency based in Texas. She provides inbound training, consulting, and content marketing services to mid-market companies.