This week a colleague sent me a Business Insider article with a series of screen shots from the "coolest websites in 1996."
They're horrifying.

They look more like something you might see on Tetris or Super Nintendo (remember those?) than websites for big, serious names like Fidelity, American Express, or Bank of America.
Those were the days before 61 percent of global Internet users researched products online or 44 percent of online shoppers began their search online.
I remember when my family got our first Gateway computer with the cow print on the box just around that same time and we used floppy disks the size of a mouse pad. And man, was everything slow!
Now that's all changed. Now, if you don't have a powerful web presence, let alone a website, it can make your prospects not trust you or your business, which is the key element in sales. If I get a business card without a website I tend to doubt how serious the owner is in their business or wonder what they're hiding. If those websites still looked like they did in 1996 it would not be very good for growing their customer base or creating loyal advocates out of their current customers online, which is pretty important considering the average person checks their mobile phone 150 times a day. The web is an integral part of people's lives now and has changed a lot, even though for many of us it feels like we can't remember a time that was different anymore.
A colleague of mine in a networking group told me this week how it's interesting that it seems Google was the game changer. And it's true.
As a Journalism major, I remember turning my nose up at the thought of people blogging for a profession just a few years ago, but now it's a serious money maker and PR tool for businesses.
That's because Google now rewards websites in form of rankings that elicit trust and ethical practices and penalizes websites that don't. Thanks to recent updates like Penguin, Panda, and Hummingbird, the more regularly and frequently quality content is published on the blog that gives people information they are looking for from searches- especially in the form of questions- the higher your website will rank for relevant terms positioned in those key areas of your pages like the url, meta descriptions, header tags, and body. Then the most recent drastic change was blocking keyword analytics data from Google searches so companies would stop writing for keywords and instead optimize their useful, helpful content for relevant keywords.
So what's the key here, again? Change.
How much the Internet has changed our lives and our interactions with brands in the past 18 years and how the trend should only continue for the next 18 and more. So don't get left behind!
Contact us for a free digital marketing consultation today.
Posted by Jackie Connors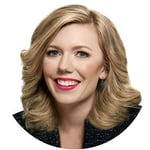 Jackie Connors is the Founder & CEO of Digital Marketing Direction, a top-tiered HubSpot Solutions Partner agency based in Texas. She provides inbound training, consulting, and content marketing services to mid-market companies.