Inbound marketing is all about content; exceptional, attractive, remarkable content that draws people to your website. Your trade show booth should not be any different. Of course, you will want large signs and an open, welcoming space, as well as your knowledgeable staff.
But don't stop there. You can also use a wide range of digital and inbound marketing techniques to really ramp up your presence. Here are a few to get you started.
Social Media—Get the Word Out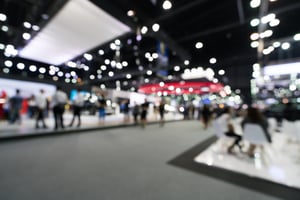 Social media gets the word out about all your fabulous content. That's exactly the way you want to use it for your booth. Use a catchy Twitter hashtag for your show and booth that all your staff members and your organization's twitter channels will use before, during, and after the show.
Use Facebook Live directly from your booth and from your presentations. Also, try a few live question and answer sessions. Don't forget Instagram for posting photos throughout the event and at your exhibit on a large display screen. With that in mind, try using one or more large screens to display your social media channels in real time.
Finally, make sure your print material has all the social media icons where people can connect with your company.
Text Messaging—Call to Action
While social media can get the word out, text messaging can activate direct action. Everyone at your trade show will have their phone with them and check it frequently, particularly for a text message.
With text messaging you can alert your contact list about special events along with the exact location of your exhibit. This is a perfect way to promote special appearances, prize drawings, discussions, forums, and more.
Digital Games and Contests—Draw Them into Your Booth
Everyone is attracted to games and contests. The more competitive your audience, the more likely they will be to stop by your booth to play your game or enter your contest. Plus, if you set it up correctly, you can get them coming back again and again.
Large scale digital signage can really play a part. Use it to display the leaderboard for your game. Or use a large touch screen as part of your game or contest. That can include playing Jeopardy, answering questions, or even voting—with the results displayed instantly.
One other possibility is to conduct a survey of those stopping by the booth with results displayed at frequent intervals. Plus, you can use social media and texting to announce that the latest results have been posted—bringing attendees back to your booth to see the results. This also plays well for contests with prize drawings. Send the messages that the drawing will be happening soon. Then use Facebook live to cover the drawing and announce the winner. This is superb content that will really grab attention. Whether you're online or in a trade show booth, it's all about visitor engagement.
Virtual Reality—Transport Your Visitors
It is hard and in some cases nearly impossible to demonstrate your capabilities within the footprint of your trade show booth. That's where virtual reality can come into play. You can transport your visitors to your product, manufacturing operation, or your office. It can also help to demonstrate your product being used in the field.
One way to approach this is to use Facebook 360 photos as the basis for a virtual reality show. You can also use Samsung Gear VR and Google Cardboard for immersive experiences with the content you want to share with your prospective clients.
Landing Page at Your Booth
Yes, virtual reality and mega prize drawings might be a bit over the top for a small booth and small budget. But, at a minimum you can use an iPad at your booth to allow people to enter their information to subscribe to your blog or to sign up for your email list. You're essentially bringing your online landing page to your booth.
That's inbound marketing in action in your booth.
Digital Marketing Direction Can Help
I founded Digital Marketing Direction to help businesses grow faster using inbound strategies and remarkable content. We can do the same thing with your trade show presence. Check out some of our work, case studies, or testimonials and call 214-937-9521 or go here to request a consultation today.
Posted by Jackie Connors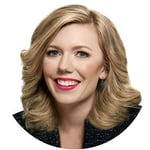 Jackie Connors is the Founder & CEO of Digital Marketing Direction, a top-tiered HubSpot Solutions Partner agency based in Texas. She provides inbound training, consulting, and content marketing services to mid-market companies.