Are you wondering why someone might take the time to write a blog or pay to have one professionally written and managed by someone else for their business's website?
Because it works.
Blogs have evolved a lot in the past 10 or so years when they were first people rambling their thoughts in their basement for the world to read. Now, they're a serious source of business.
Don't believe me?
Did you know that nearly 40 percent of US companies use blogs for marketing purposes and 61 percent of global Internet users research products online? Blogs can help people interested in your product or service find you online from search engines, social media, and referral links.
And that kind of organic interest can pay a lot better return than a clearly marked advertisement. Think about a pretzel company that buys $5,000 in Google Adwords starting at about $2 cost per click with a conversion rate of maybe 1%. You could expect to get 25 orders. Unless each pretzel order goes for at least $200.00, you've just lost money.
Now say that some pretzel company starts a blog with topics like Yes, there are other dipping sauces besides mustard for pretzels, How the first pretzel was invented, and 10 ways to wow your game day guests with our soft-baked pretzels. They start posting them on social media, search, and sending to their email list for a cost of about $1,000/month and get 50 orders with an estimated low-ball response rate of 5 percent. If each order is at least $20, they've just made money! Like a business should.
Blogging costs less and has a higher estimated conversion rate because it builds something- trust, credibility, authority, and search rankings. If you take out an ad in the newspaper, once the next day comes with a new paper, that money is gone. Whatever orders you got that day from the ad, that's all you will ever get back from that. With a blog, it will continue to work for you while you sleep...and that's what every business owner wants, right? To build a great business that knows how to operate without them pressing the go button.
Are you interested in talking about what a blog can do for your business's website? Fill out the contact form below!
Posted by Jackie Connors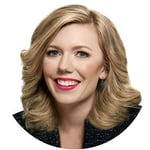 Jackie Connors is the Founder & CEO of Digital Marketing Direction, a top-tiered HubSpot Solutions Partner agency based in Texas. She provides inbound training, consulting, and content marketing services to mid-market companies.