Have you given the same sales pitch about what you do over and over again and thought, there has to be a better way? Or the other way around, spent a big budget on ads but not on real world networking and expected more in return than you got?
That's because it takes both.
The power of making real connections
If you are trying to start or grow a business, you should be spending a huge chunk of your time networking. No doubt.
You shouldn't just be reaching out to strangers in ways like running ads to drive to a site that doesn't have real partnerships, testimonials, or credentials listed on it.
Any marketer can get the right people to your website (for a cost) but if you want the visitors to sign up or download or take any sort of action to engage with your brand and make them a connection you need to make your site look credible to prove you are legitimate and they can trust you.
But you also shouldn't just be going to networking groups or one to one meetings. It should be a combination of off line and online communication to increase efficiencies in attracting and converting clients or customers.
The power of online lead nurturing
You should use your web presence and online marketing efforts to continue to nurture the contacts you have- whether they are generated in the "real world" or on the Internet- by educating them on what you do and other relevant information to the industry. This will make you seen as an authority within your industry and an expert in your field to your current and potential clients. That means entering in business card information after a networking event and asking those people if they would like to join your email list.
So if you're part of a networking group that meets once a week, think of your blogging or email marketing efforts as a way to accelerate those conversions by giving people more information about you and your company, making it almost as if you were able to meet with each person on a weekly basis. This will make them like and trust you quicker and help land you more clients. Not to mention the power of social media, should they decide to share something you've written which then lets their friends know they "like" you, and since trust is the most important thing in business, each like is worth a lot.
Interested in our lead nurturing services like blogging our email marketing? Contact us below.
Posted by Jackie Connors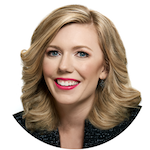 Jackie Connors is the Founder & CEO of Digital Marketing Direction, a top tiered HubSpot partner based in Texas. She provides inbound training, consulting, and managed content marketing services to mid market companies. Some favorites of hers include growth, Texas BBQ, and a good laugh!