Are you looking to get business on your website in an authentic, non-spammy way? Then Hubspot is probably right for your business.
So how does it work?
The Marketing Platform
Hubspot's marketing platform is the actual system, aka the tools, that helps you execute your marketing. Inbound Marketing is the method they promote behind the tools. For any digital marketer, they know how overwhelming and discombobulated marketing efforts can become very quickly when working across multiple platforms. That's why many operate with TWO screens at a time that are connected because one screen just doesn't cut it anymore. Business owners can feel confused when their marketing is done under many systems because it can make tracking efforts much more difficult and cause many inefficiencies. So Hubspot's marketing platform is great because it brings it all into one place and is made to easily track not only top content, sources, and all the regular stuff but also conversions.
The Method/Strategy
Here's the inbound marketing method explained in a simple chart:

It's fairly simple (yay!) and just takes lots of editorial planning and tweaking to improve. You want to attract the right people to your site, get them to come back, nurture them, and then convert them. And then rinse and repeat.
The most important step before doing any of this is creating buyer personas so you know who you're trying to attract to shape the content and publishing, and then drilling down to create workflows based on offers to entice those personas to convert into customers.
Are you interested in learning more about Hubspot? As a Hubspot agency partner, DMD is happy to schedule a call to demo the product with you, us, and Hubspot so we can combine DMD's editorial and marketing expertise with the right tools to get you business online.
Posted by Jackie Connors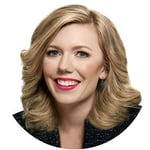 Jackie Connors is the Founder & CEO of Digital Marketing Direction, a top-tiered HubSpot Solutions Partner agency based in Texas. She provides inbound training, consulting, and content marketing services to mid-market companies.