Receiving information digitally is quickly becoming the nation's most popular way to review material. One of the most popular formats is a podcast. We all want the ability to consume content on the go and they are a great way to do just that. Podcasts are also fantastic for inbound marketing as you'll create brand awareness, show yourself as an industry expert, and you can create blog posts from the transcripts. If you're looking to reach a wider audience and you don't have one yet, it's time to get on it!
Thanks to today's technology, it's fairly easy to create your own podcast. Here are 11 steps to help you get started.
Step 1: Choose a Topic or Theme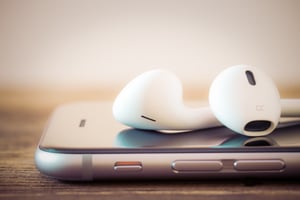 Before you do anything else, it's vital that you choose a topic or a theme. It's important to select an area in which you've got both expertise and, more importantly, passion! Nothing kills a podcast faster than a boring host, so make sure you are excited about your subject matter.
Once you have a general topic or theme, you'll want to align it with your target audience so that you're talking about things they care about. For example, I saw a law firm whose target audience enjoyed golf, so they did a golf podcast. Think about your audience and what they'd be eager to hear.
Step 2: Choose a Format
Now it's time to choose a format. Do you want to record just yourself talking about a particular topic? Do you want to interview people in your industry? Do you want to have a co-host and chat about relevant topics? Will you do it live while recording or will you record all episodes ahead of time and set a publishing schedule?
You'll also need to determine the length of each episode. This doesn't have to be a hard-set amount of time, but it's smart to start with a general idea of how long you'll be talking. Anywhere from 20 minutes to an hour works, depending on the format. A lot of successful ones are in the 20-minute range because this fits well with a commute or a workout.
Step 3: Determine the Frequency
It's very rare that I would say that you "have" to do something on a specific schedule but in this case, I say, "Yes, you HAVE to podcast on a weekly schedule." The reason I say this is because you want to get your listeners into a pattern. When the listener receives shows posted on a weekly basis, listening becomes a habit. If you start to deviate from that schedule you risk your listeners getting out of the routine. You want your podcast to become a part of their lives. So much so that they look forward to a new episode every week. You can always take time off here and there but weekly should be your default schedule.
Step 4: Reach Out to Schedule Guests
If you're doing a solo show, you can skip this step. However, if you've settled on conducting interviews, you'll want to reach out to prospective interviewees to schedule sessions, map out your questions, and choose topics to cover.
One of the most important things to remember is to stay on the lookout for new people to interview. You'll need a constant influx of new guests to keep your podcast going and your listeners interested.
Step 5: Choose a Hosting Service
You'll want to choose a hosting service where you "house" your program. We use Spreaker, but there are a lot of options (Blubrry, Libsyn, and BuzzSprout to name a few).
Step 6: Record It
This is the hardest part for most people. It's time to execute your careful plan. My advice? Just do it. Your first few episodes may be a bit rough, but you'll get better over time. Don't spend a lot of time overthinking it; relax and try to have fun.
Step 7: Post Production
At a minimum, you'll want to add intro/outro music to the beginning and end of your episodes. TuneFruit, Wistia Music Collection, Free Music Archive, and PremiumBeat are a few of our favorites.
(Warning: do not use copyrighted music! For a brief review of how to avoid copyright issues, see this Common Sense Guide to Copyright Online guide.)
Optional: Editing. You may want to tweak your episode more than just adding in the music. I typically don't do this—unless something odd happened during the episode. I prefer the unpolished, real feel of no editing. That said, if you do want to edit it, you can use a product like GarageBand. Not feeling up to the challenge? You can pay someone else to do it. There are many services that will edit your podcast for you.
Step 8: Upload and Publish
Once you have the episode ready, you will upload it to your hosting service, add a description, and either publish it or schedule it.
Step 9: Connect to iTunes
Once you have your first episode published, you'll want to connect your podcast to iTunes. In your hosting service's website, you should have access to your RSS URL. Then go to iTunes:
Start iTunes on your computer and go to the iTunes store.
Click on Podcasts in the menu, and then click the "Submit a Podcast" link in the sidebar.
Paste your RSS feed URL into the "Podcast Feed URL" box and click Continue. iTunes will find your program and display the information on a Review Podcast page.
Choose a category and subcategory and click on Submit to complete the process.
Step 10: Share
Once the episode is live, it's time to share it with the world! Post the link to your social media accounts, add the link to your email signature, and urge friends and coworkers to spread the word.
Don't forget to encourage your guests to share, too! When you interview someone, be sure to send them the link and ask them to post it to their network as well. You'll be surprised who you might reach this way.
Step 11: Don't Stop!
The key to a good podcast is consistency, so be sure to keep it going!
Forty-two million Americans listen to podcasts weekly. That's five times more than go to the movies. They are getting more popular all the time, so don't miss out on the chance reach your audience in a new and unique way.
Be sure to listen to Inbound Back Office's episode featuring Digital Marketing Direction about persona development to get some new ideas for how to segment and prioritize your buyers in a more "inboundy way. " A new episode drops every Friday and you can expect this one around July 2018. You can listen to past episodes or subscribe to the series in iTunes.
Posted by Amy Metherell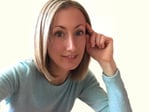 Amy Metherell is the Co-Founder of Inbound Back Office, a team of Virtual Assistants who save time for marketing agencies. She started as a solo VA and grew to 26 team members since 2014 after realizing the corporate world wasn't for her. She's a single mom, an avid runner, and loves The Golden Girls.