We have all read blogs with glaring errors in the text. I'm not talking about the difference between "that" and "which," but errors that change the entire meaning of the sentence. For instance, take this headline from iheartdogs.com: "Man Runs after Mountain Lion in His Underwear." Why was a mountain lion in underwear?! A simple review by a copy editor would have stopped this hilarious mistake. Obviously, the reader knows that it was the man and not the animal in underwear, but instead the title takes away from the actual story.
Taking A Step Back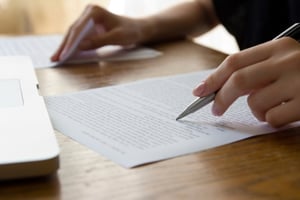 While the vision of a mountain lion in underwear is humorous, some errors that make it to the final published version may have serious repercussions. Not only do copy editors correct the writing, but they also take the time to fact check the entry. You wouldn't want to quote statistics in your blog post only to have them retracted in the next posting. A copy editor prevents this embarrassing correction. If these errors appear or continue, your audience will start to doubt the validity of your posts.
The Details
A copy editor is a writer's best friend. A writer is able to focus on their content and not spend the extra time rereading for punctuation and grammatical errors. All writers benefit from a second pair of eyes. The Huffington Post published an article in October 2014 agreeing with this concept. The article, "Publishing's Unsung Heroes: Copy Editors," praises the copy editing profession. In the article, the author (a published novelist) points out that, even though she has written and published several novels, copy editors are still needed to proof her work. After her final draft many errors in continuity, spelling, and style are found by the copy editor. Another example of where a copy editor was needed was Mitt Romeny's 2012 iPhone app campaign to "Stand up with Mitt for a Better Amercia." A second pair of eyes would have caught this glaring mistake.
Writers are usually too close to the work. They have been working in this specialized area for a while and sometimes do not realize what the lay reader needs defined. A copy editor, even one familiar with the material, will help the writer to take a step back and make their work accessible and understandable to all readers.
Style
Copy editors also provide continuity from one blog post to the next. Headers, subheads, and blog-specific terms need to remain the same through the history of the blog. It can be confusing for a reader to have a wide variety of fonts, heading sizes, and capitalization issues while jumping from post to post. Continuity helps to emphasize a mastery of the issues reported in the blog.
In order to have a clean, well-written post, writers and copy editors need to work hand-in-hand to stop any mistakes from being published. Otherwise, readers will move on to a blog that has a defined and easy to read style.
Posted by Deirdre Blanchfield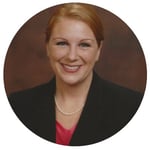 Deirdre hails from the great state of Michigan. She holds a BA in English from the University of Michigan-Dearborn, and partners with DMD as our copyeditor. Deirdre has 15 years of editing experience, and specializes in educational texts and online materials.