It may be hard to keep up with the trends in design only to find out that it is outdated one year later. The flat design trend is something that I have seen emerging in major companies including Apple, Microsoft, and many others.
Explaining Flat Design
I normally don't like to give names to certain types of design because to me it is what it is, or is what you want it to be. Flat design however has a very distinct look and feel (it's flat). It pulls all of the complex bevels, crazy gradients and shadows to make something very clean and easy for the viewer to consume without being overwhelmed by the unimportant things.
I wanted to show something as an example so I made one for myself. I basically just simplified the lighting bolt from my current logo, utilized a common color in the trend and added some nice clean typography. You will also notice the really long shadow coming off the bolt, that is something that you will commonly see in this style.
[gallery columns="2" ids="540,541"]
Utilizing the Trend
If you are thinking about utilizing this type of design, make sure to put some thought into it before you go and strip everything away. You will want to spend some time really thinking about the details of the design and your core audience. If you are a really modern trendy company like Apple and Microsoft then this may be a good route to go. If you are a casino that really needs that wow factor of fun and excitement then this is probably not the right direction. Just because its is trend doesn't mean you should follow.
Thinking about color
Color is a major role in this trend. It focuses on the not so common color basics, it unitizes colors like peachy reds, soft blues and turquoise (see chart below for example). I like how when you have lighter color next to a shade darker it creates a bit of a crease in the rectangle.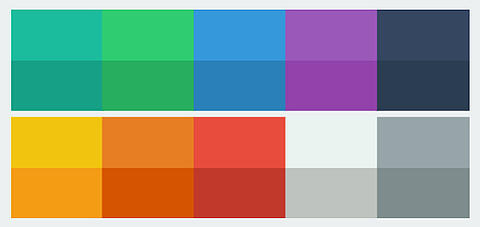 So while this type of design doesn't fit every brand, it can be a perfect fit for some that are really going for that minimalistic, modern feel.
Are you interested in using flat design for your business? Contact us below!
Posted by Justin Piontek

Justin Piontek owns Justin Piontek Graphic Design, based in Madison, Wis., and is a professional mountain biker. He started designing professionally for casinos and has since developed a versatile portfolio including nonprofit and retail clients, among others.