For someone who has not ever worked with a graphic designer you may wonder, "Where do I start?"
When You're Ready to Contact One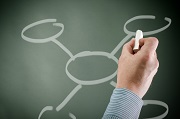 Generally, you're ready to contact one once your general concepts are locked in and you have a general idea of the direction in which you would like to go. It is very important to understand your branding and target audience before starting the design process. From there, they can mock up different options but they do not generally work with you on marketing aspects of design like brand differentiation and positioning.
How To Execute Your Vision
Send examples: One of the fastest ways for designers to create what you're looking for is to send examples of what you like and examples of what you don't like, with explanations about why and in regard to what. For example, do you like the font in an image you send the designer because it is in line with the modern design you're looking for? Do you like the color scheme of a website you want to model after because it looks very business-like?
Send related images: You can also send images that relate to what you have in mind. If you're designing a website for a coffee shop and send a picture of a leather chair, autumn leaves, a mug of coffee, and a chocolate bar the designer could infer you're going for a sort of rustic feel.
Send your copy: Lastly, don't forget about copy. The text you include on your design is very important to the overall impact so be sure to give that some thought, as well, while keeping spacing in mind so it's not too cluttered or bare. This part should be sent after a general design is created so you can keep spacing and layout in mind.
All of these aspects can have a major effect on who the final design is catered to. That is why it is important to have an understanding of this before hand. Once all of this is sorted out I generally get three mock-ups together and then tweak the preferred mock-up from there. After all of this collaboration, you will have something that stands out from the rest and is in line with your vision.
Are you looking for someone to create web designs and manage the branding strategy? We can do both! Fill out the from below to talk to us.
Posted by Justin Piontek

Justin Piontek owns Justin Piontek Graphic Design, based in Madison, Wis., and is a professional mountain biker. He started designing professionally for casinos and has since developed a versatile portfolio including nonprofit and retail clients, among others.